Olympic Art Gallery

One of my ambitions for a public, digital Olympic Art Archive is to make available to the public a searchable gallery of all the submissions that have survived. So far, I've found about 25 texts from the literature competitions and I've collected about 285 individual images from the painting, sculpture, and architecture competitions. The Olympic exhibition catalogues contain a few hundred more (in black and white) that could be scanned and clipped. For now, here are just a few selected images from this growing collection.
E. Monod and A. Laverrière, "A Modern Olympia on the Banks of Lake Geneva."
Monod and Laverrière won the 1909 IOC architecture contest and the first gold medal in architecture at the 1912 Stockholm Games.
Pierre de Coubertin, "Ode to Sport"
The founder of the modern Olympics won the first gold medal in literature by writing a dual-language poem under two pseudonyms.
Henriette Brossin de Polanska, "The Jump"
Only the medal-winning artworks for the 1920 Antwerp Games are known. "The Jump" won silver in Painting.
Géo-Charles, "Jeux Olympiques"
The experimental open-air play "Jeux Olympiques" won the gold medal for Literature in Paris in 1924. Géo-Charles was the editor of "Montparnasse" magazine and a respected Left-Bank poet.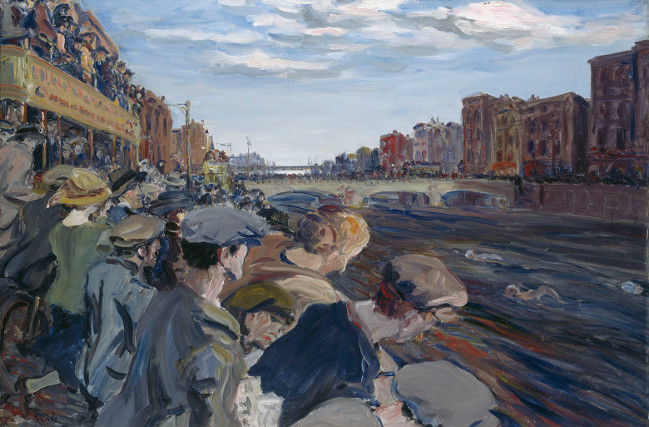 Jack B. Yeats, "The Liffey Swim"
Now one of Yeats's most famous paintings, "The Liffey Swim" won a silver medal at Paris 1924. During the same summer, Jack's brother W.B. Yeats was helping to organize the Tailteann Games--an Irish sports and culture festival with its own literature contest.
Jean-René Gauguin, "Boxer"
Gauguin, son of the French post-impressionist Paul Gauguin, won a bronze medal for Denmark with this sculpture at Paris 1924.
Henry de Montherlant, "Paradise in the Shadow of Swords"
Even though Montherlant's first installment of his "Olympiques" was a favorite to win the Prix Goncourt the same year, it failed to win any Olympic accolades at Paris 1924.
Knud Merrild, "Tennis"
Merrild--later to become a celebrated modern artist and companion to D.H. Lawrence--submitted six Olympic artworks in 1924 and three in 1932. None won any prizes, and this is the only one I've found.
Serge Youriévitch, "The Dancer Nattova"
Youriévitch competed for Russia in 1924 as an expatriate in France even though Russia was not otherwise participating at the Olympics. "Nattova" is one of his better-known works, but it came up short of the Olympic podium.
Johannes Weltzer, "Symphonia Heroica"
Weltzer's modernist poetic tribute to Charles Lindbergh's transatlantic flight won a bronze medal for Denmark at the 1928 Amsterdam Games.
George Grosz, "Boxer Schmeling"
Grosz, known best for his Dadaist political satires, took a different approach for this portrait of German boxer Max Schmeling. He submitted the painting to Amsterdam 1928, with no success.
Willi Baumeister, "Runner"
Baumeister, another German avant-garde painter, submitted two artworks in 1928 (including this painting, "Läuferin") and one in 1932.
Angel Zárraga, The Young Soccer Player
Zárraga, a Mexican artist residing in Paris, submitted 17 paintings between 1928 and 1932. He won no medals, but many of his paintings (like this 1928 portrait) have survived.
R. Tait McKenzie, "Shield of the Athletes"
McKenzie was the most prolific Olympic artist, submitting 58 sculptural works across 4 Olympiads. This "Shield" won him his only medal: a bronze at Los Angeles 1932.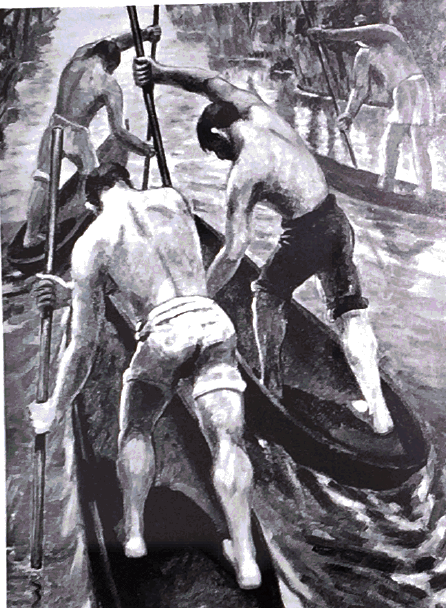 Antonia Matos, "Pirogue Race"
Matos, competing for Guatemala, earned an Honorable Mention for this painting at Los Angeles 1932.
Hermine David, "The Six-Day Race"
David, great-granddaughter of the French neoclassical painter Jacques-Louis David, submitted this drawing in 1932.
Gerardo Dottori, "The Arrival"
In spite of an earlier feud between Olympism and Futurism, aeropinturra painter Dottori submitted a trio of futurist racecar paintings to the 1932 Olympics, including this finale.
Arno Breker, "Decathlete"
Breker, an official artist of the Nazi party who competed at the 1936 Berlin Games, won a silver medal for this sculpture.
Bunya Koh, "Formosan Dance"
Koh, also known as Jiang Wen-Ye, was a modern Taiwanese composer who lived in and competed for Japan. His "Dance" won an Honorable Mention at Berlin 1936.
Tsuguharu Foujita, "Ice Hockey"
Foujita, a Japanese modernist living in France, had served as a Painting judge at the 1924 Paris Games. In 1936, he won a bronze medal for this painting.
Enrico Prampolini, "Angels of the Earth"
Futurist painting returned at the 1936 Berlin Olympics with paintings like this one, but they won no medals, even though Italians fared well in the contests generally.
Anne Morrow Lindbergh, "North to the Orient"
Lindbergh submitted this nonfiction account of her and her husband's aviation exploits to the 1936 Berlin Games.
Chintamoni Kar, "The Stag"
Kar, an Indian sculptor, won a silver medal for "The Stag" on behalf of Great Britain at the London 1948 Games.
Walter Battiss, "Quagga Race"
An imaginative abstract artist from South Africa, Battiss received two honors at London 1948: an Honorable Mention for this "Race" and a bronze medal for "Seaside Sport."

Roy de Maistre, "Rugby Football"
De Maistre, an Australian painter influenced by cubism, submitted this painting for Great Britain at London 1948.
Laura Knight, "Paddock at Ascot"
Knight was the first woman to become a full member of the Royal Academy, and she was a frequent competitor at the Olympic Art Competitions. Having won a silver for "Boxers" in 1928, she submitted 10 boxing and horseracing paintings in London twenty years later.